Storm Streaming Server release 1.3.0 + Storm JavaScript Player & Library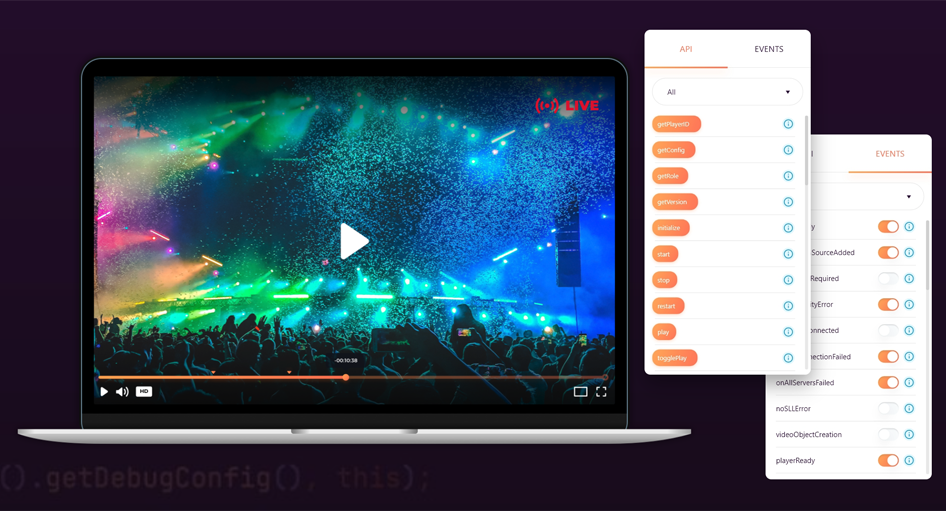 This post is also available in:
polski
We're delighted to announce an extraordinary release this time. We've not only put an enormous amount of work into the server itself, but our Storm Library & Storm Player were rebuilt from the ground up too. On top of that, we're also publishing a dedicated Demo page, where anyone can test our server application or Library/Player APIs. Let's get into details…
Storm Streaming Server 1.3.0
While there aren't any new features, memory and thread management were greatly improved, reducing RAM usage by 30%. We have also enhanced our DVR functionality for iOS (HLS/LL-HLS). It works much smoother and nicer now.
Storm JavaScript Library 2.2.0
Our library now comes in UMD, ESM, IIFE, AMD, and CJS modules allowing for a seamless integration with modern websites using React/Angular frameworks.
Some important bug-fixes/changes:
isInitialized() method will return true right after initialization event,
All end-point config options received proper setters and getters,
PlayerState bug on quality change was fixed,
Resizing function was improved,
Volume will be stored as a cookie from now on and restored on the next initialization/page reload,
Timeouts for all connections were added,
Pause/Play mechanism has been slightly alerted for DVR functionality,
Storm JavaScript Player 2.1.1
The player went even more changes. It also comes in UMD, ESM, IIFE, AMD, and CJS modules. The whole code is appropriately documented using JSDoc standard (all classes, methods, and properties).
Some important bug-fixes/changes:
Several new methods were added like: setWidth, setHeight, getWidth, getHeight – please check our documentation for more details,
removeEventListener method now accepts a call without callback parameter (all events of a particular kind will be removed),
The fullScreen mode has been grealy improved,
Alternative full-document mode on mobile devices has been added (it covers whole visible page area),
All click/mouse events were replaced with adequate touch events. This also includes progress-bar manipulations (it's super smooth now).
StormPlayer uses now rollup for TypeScript -> JavaScript bundle conversion.
Storm Demo
There are several cool things this demo allows anyone to do. First of all, anyone can test a stream using one of our servers. We have also included a short tutorial for OpenBroadcaster (OBS), showing everything step-by-step. The whole procedure takes under 3 minutes, and all you need to do is copy the RTMP stream, paste it into OBS and click Start.
We have also implemented a complete API/Event testing functionality. If there is a method for the library or the player, it can be tested here. A detailed description and sample code are also provided. The same goes for events – all of them can be turned on/off for reporting.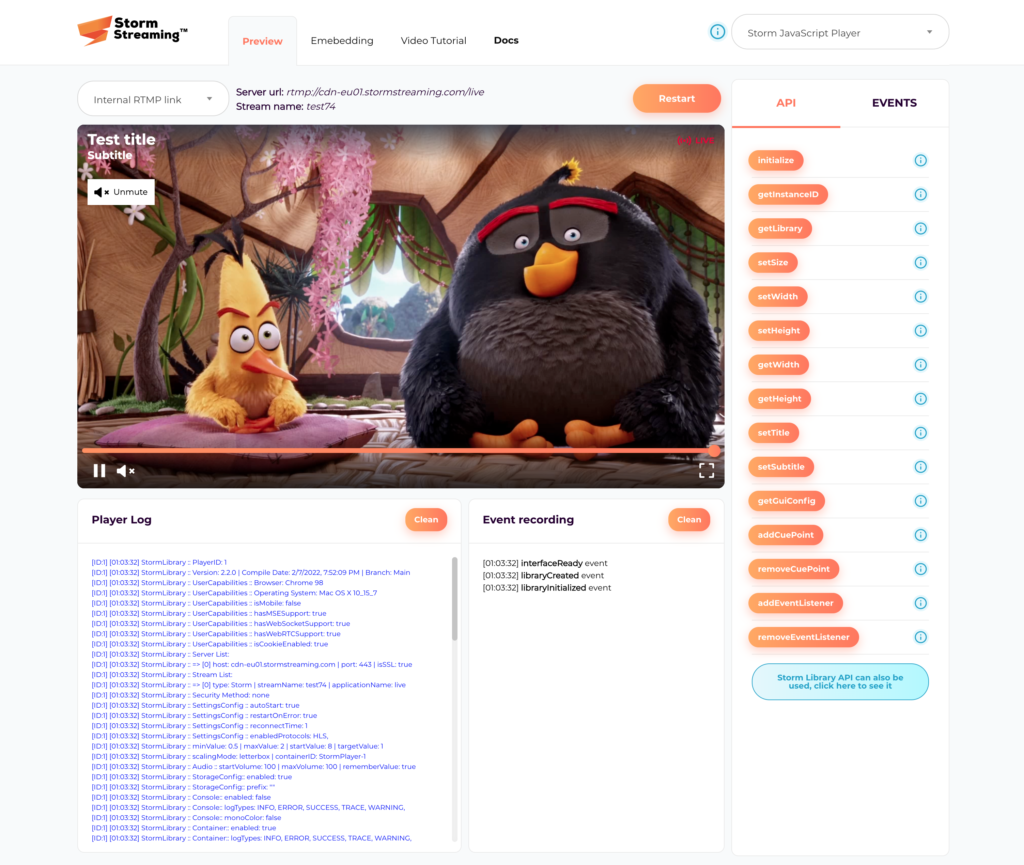 You can check our demo here: https://www.stormstreaming.com/demo
We believe this tool will greatly improve the implementation process and reduce work for our excellent support team (they deserve it!).
---
Tags:
amd
,
angular
,
cjs
,
demo
,
dvr
,
esm
,
iife
,
jsdoc
,
obs
,
openbroadcaster
,
react
,
storm library
,
storm player
,
storm streaming server
,
umd